This weekend was a busy one ~ all the sports was enough to make my head spin, much less the trick-or-treating (tonight will make three nights in a row the kids have dressed up.)
Let's start with the Rangers. I'm not a huge baseball fan, but put a Texas team up for the championship and I'm your fan! Big disappointment, but I'm still proud of those guys! Next we have our high school team that went home with a huge victory. Proud of those boys too. What can I say about those Texas Tech Red Raiders? Not much after Saturday night, but I will always be a Red Raider...it's in the blood. I don't even want to talk about the Cowboys.
This blog post is not about the wins or losses, nope, it's about a little football team I've been watching over the past 3 months and how proud I am of one #34. It's been so awesome to see all the boys grow and learn the game of football. Most of them went from being timid to getting major hits in the course of just a few months. I've seen friendships grow between not just the boys, but the parents as well. We couldn't have asked for a better group of men to coach our boys. They were patient, encouraging and not once did I hear a negative or condescending word come out of their mouths. At every turn these men were making sure our boys had the best possible experiences and I am so thankful for that.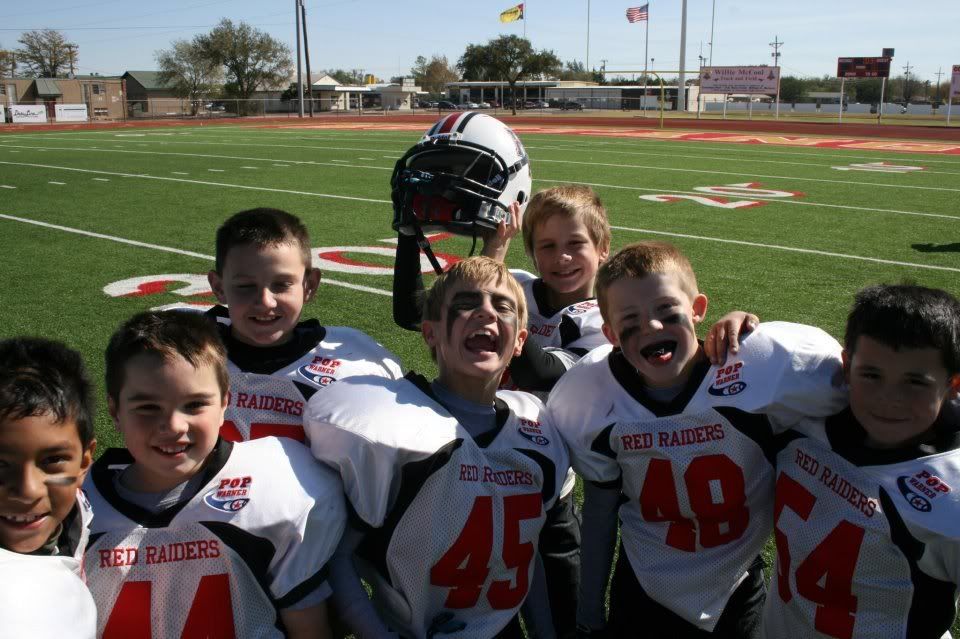 R played offensive tackle and left defensive end and did a pretty darn good job. He got out there and worked hard at every practice, gave 100% every game and even sacked the quarter back a few times. That being said, he was disappointed most of the time because he wasn't given the chance to run the ball. He did touch the ball one game when he recovered a fumble. Now I know he's my flesh and blood and I'm supposed to be a little biased, but the kid can run. He's got endurance and speed. Nevertheless, he was the tallest kid on the team and expected to be on the line.
This brings me back to the last few minutes of our last game this Saturday; a game we didn't even think we were going to have. The boys were playing great, we were winning and I guess the coaches decided to mix it up a bit and let the boys play different positions. R decided at half time he would ask if he could run the ball. I'm so glad he did. With just a few minutes left to play they move R to running back. I'm busy making sure the girls aren't going to fall of the bleachers when my father-in-law elbows me and says, "R's about to run the ball." I nearly fell off the bleachers myself. First I was on the edge of my seat, then I was standing, then jumping up and down and apparently screaming my head off ~ all the while R is running past several opponents into the end zone for a 60 yard touchdown!! It was so exciting!
I told the coach after the game that it was that one play out of the entire season that will make R want to play again next year. Golfers will tell you it's that one good connection with that tiny white ball that keeps them coming back for more. I guess it's that way with any sport. You get a glimpse of victory ~ feel what it's like to score a touchdown, a home run, a three pointer or goal and your hooked. Who knows where that touchdown will lead him in the grand scheme of things, but I hope he learned that it doesn't hurt to ask for what you want. The worst that could happen is getting told, "No." R learned on Saturday that when you ask, great things can happen.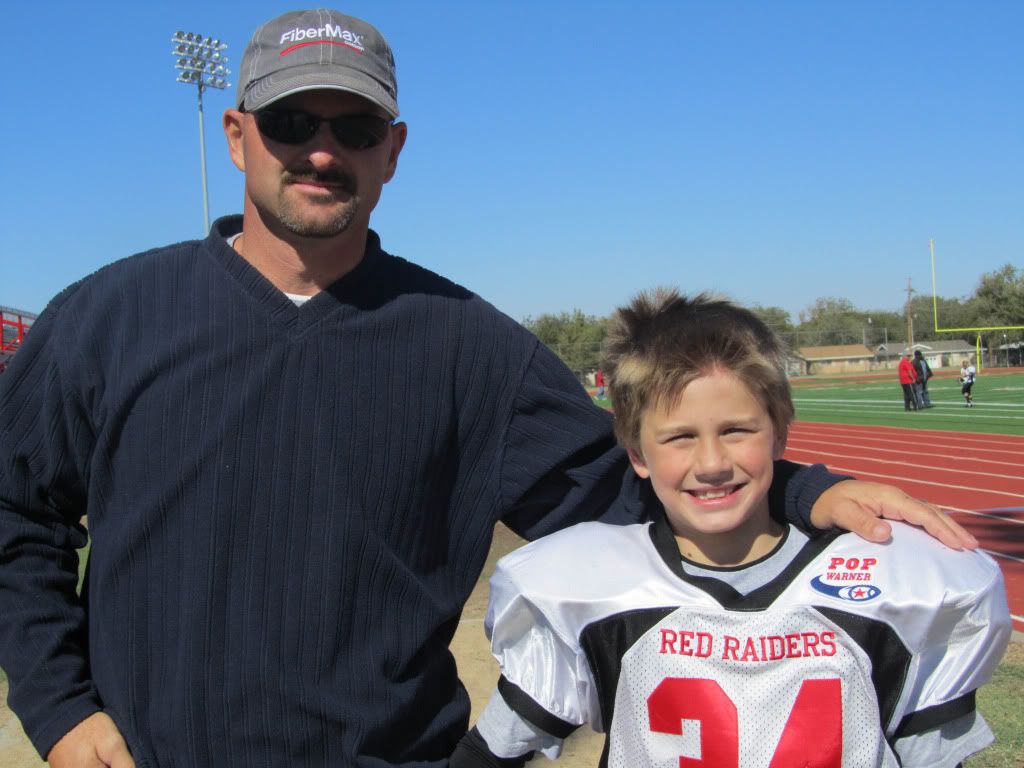 After the game on Saturday

So proud of my little guy!

 We're already looking forward to not only next season, but many seasons to come. I am going to have to learn how to control myself ~ big R told me Saturday after my screaming fit that I was going to have to get a grip or he wasn't going to be able to sit by me at the games. Not only that, I could hardly talk on Sunday. :)
"Four short words sum up what has lifted successful individuals above the crowd:
They did all that was expected of them and