I was standing at the stove this morning cooking a nice hot breakfast so my family could start the day off in the right way when I found myself thinking about my grandmother. As I was thinking about her and all the many breakfasts she prepared in her life I realized something: I think about my grandmother alot while I'm cooking breakfast. Maybe it's because she cooked a hot breakfast every day without fail for her growing family of 9 for most of her adult life and then for just herself and my granddad in their later years. Never a day went by that she didn't put a large breakfast on the table. When we were visiting, I would always be woken by the sound of her in the kitchen. There was comfort in those sounds...we always sat down at the table in the dining room and ate a breakfast of scrambled eggs, bacon, toast, jelly and juice. I can remember it like it was yesterday. She rarely sat down to feed herself; she was too busy waiting on everyone else (mainly my granddad.) :) My grandmother was the best cook; she could make a simple country breakfast seem like a gourmet meal. Not sure how she did it. My breakfasts are made up of the same items, but somehow aren't exactly like hers. Read
this post
to find out what I think made her cooking so special.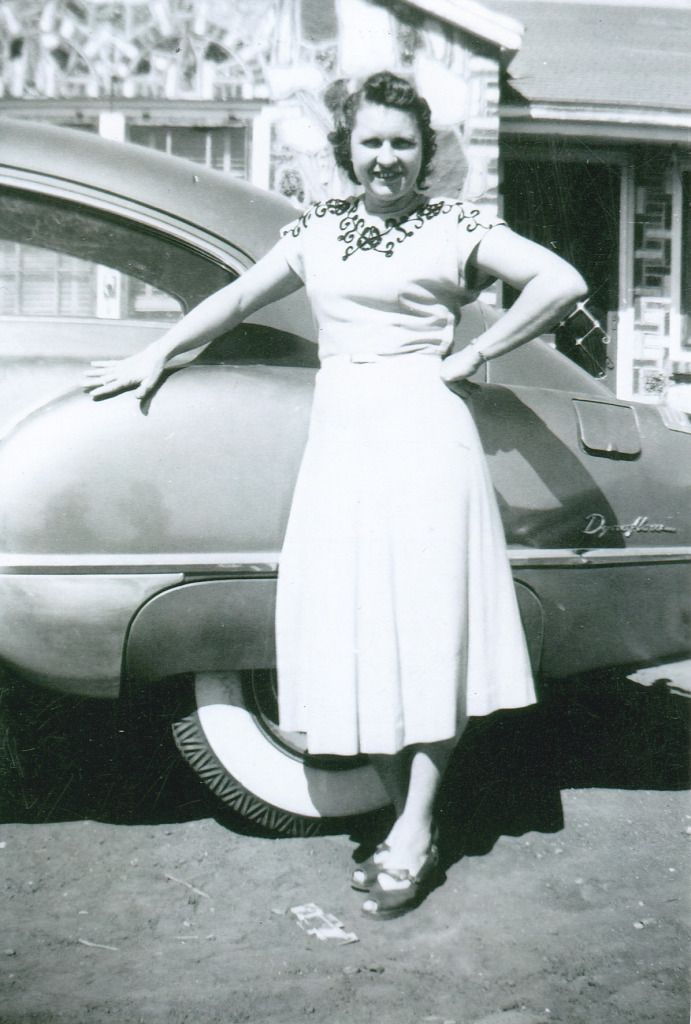 My grandmother posing in front of what we call "The Rock House."

I'm guessing this picture was taken in the mid to late 30's. My mom is the youngest of 7 kids and she was born in 1947; she lived in this house until they moved to town when she was 4. I love this picture. They must have been going some place special because I'm almost positive with that many kids running around she didn't dress like that everyday.
Looking back, life seems like it was alot simpler than it is now. I often long for those "simpler" days. I know they weren't simpler; they were alot harder. I guess what I long for is the innocence people had back then. It seems there was not near as much tragedy and sadness on a grand scale as there is today.
I wish I had interviewed my grandmother and written things down. I did write down alot of her recipes although it was a little difficult because she never used measurements. :) I love to look through my recipe box and find the ones she shared with me. I'm pretty sure no matter how many times I try, my chocolate meringue pie will never taste exactly like hers.
My grandmother was also a farmer's wife. She knew what it meant to have to feed a hungry crew in the field. Her meals were totally different than the meals I prepare. She would make a sit down meal complete with plates, utensils (not plastic btw,) sweet tea, homemade banana pudding and a card table to spread all the food on. My granddad and whoever he had helping him would stop what they were doing and take a few minutes to eat. Our guys eat on the go, so I have to prepare food that can be wrapped in foil and eaten one handed. :)
This picture was taken on my grandmother's front porch the day we had to say goodbye in February 2006. I remember playing on this porch as a child. The pillar we're sitting on was alot taller back then. my cousins, my sister and I would make the best mud pies with little red berries added for decoration and after a rain we would collect tadpoles from the miniature pond at the corner of the intersection. So many good memories of time spent with family in that old house on 6th Street.
I miss my grandmother. I miss that house. I miss how she used to greet us when we pulled into the drive after the four hours it took to get there. I miss how she would wave goodbye when we left...she would keep waving until we were out of her sight.
I know I will see her sweet face again; until that day I will keep cooking those hot breakfasts with all the love I can and maybe someday they'll taste like hers.