When I got home from the grocery store on September 28th, I noticed several Monarch butterflies fluttering around our backyard. I knew it was time for the Monarchs to migrate, but this was the first time I had seen so many in our yard. I unloaded the groceries and had a few minutes before I had to pick the kids up so I grabbed my camera and snapped several photos of the butterflies. Let me just tell you, it's not easy to photograph a butterfly, and I quickly found out getting a photo of one with it's wings open was next to impossible. Oh well, better luck next time and off I went to school...
On this day, R was to go to the fair with a friend which left me with a dilemma ~ how to break the news to K. I chose the easy way out and decided not to tell her until absolutely necessary (which I was hoping would be never.) My kiddos love the fair and we had already gone on Sunday, so it wasn't like she was being completely mistreated. Anyway, back to my story...R went with his friend and K and I went home; all the while she's planning what we would do, just the two of us. First on her agenda was a picnic in the front yard. We packed our basket with whatever we could find that was portable, locked Sam in the garage (because the last thing we needed was a dog destroying our picnic,) and headed out to spread our blanket. When we rounded the corner of the house, we saw the most amazing sight ~ a sea of butterflies floating over the flowers in our flower bed. The same flowers I almost cleaned out the week before (I'm ready for pansies people!) I sprinted back to the house to get my camera and a second chance to photograph the elusive creatures. We snapped pictures in between bites of pb&j and marveled at their beauty.
Have you ever listened really closely to the flutter of butterfly wings? It's magical ~ and if you close your eyes you can imagine the sound of angels wings.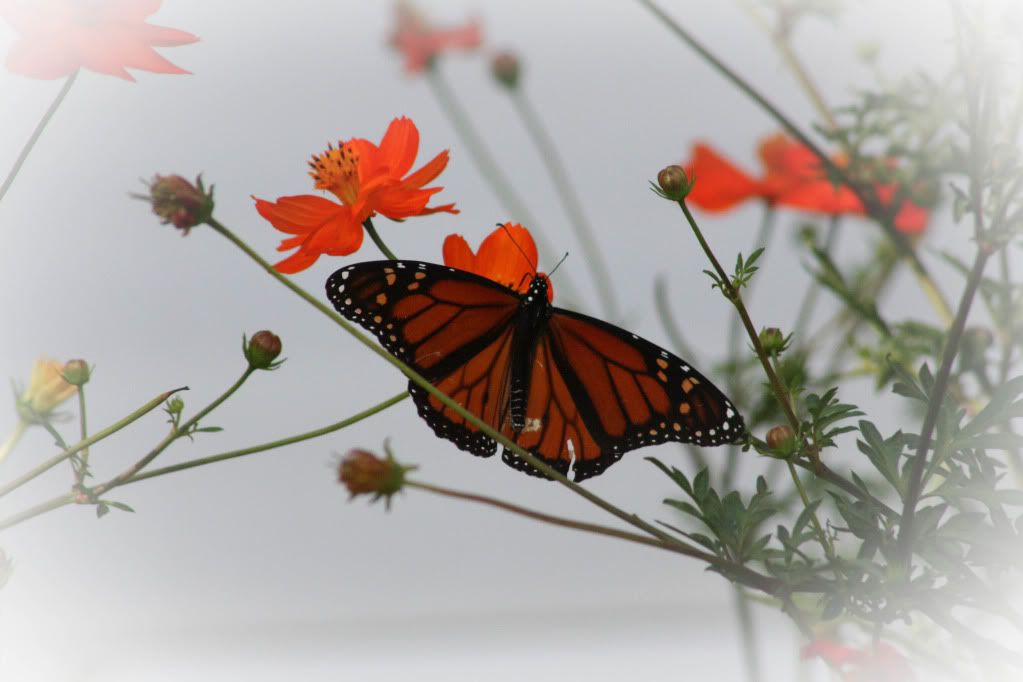 I finally found a butterfly nice enough to let me capture it in all it's glory. I'm not kidding. Try it someday, it takes persistence. :)
While we were sitting outside enjoying our picnic, K climbed onto my lap and said, "This is the best day ever!" The best day ever wasn't being spent riding rides and eating cotton candy, it was being spent on a blanket surrounded by butterflies.
Our picnic eventually came to an end. We loaded up her scooter and went to the park and then came home for "do it yourself" pedicures. We had fun! Yes, she found out the next day her brother got to go back to the fair, but she was only sad for a second. I really think in her little mind she knows we shared a very special day that wouldn't have happened if we had not been home, together, just the two of us.