This may sound like a crazy thing to want to blog about, but I can't help it. When I get my hands on something as cool as this, I want everyone to know about it! Back several months ago I was listening to one of my favorite podcasts, PaleoTalk. This podcast is about eating Paleo. I won't go into the details, but it's awesome! If your interested in checking it out you can find the link for the podcast at
www.everydaypaleo.com
. Who knows, I may blog about it one of these days. :)
Anyway, on this show they were talking about what they send in their kids lunch boxes and Sara (yes, I'm on a first name basis with the hosts,) was talking about these totally cool lunch boxes she found for her kids and how everyone at their school was wanting to know how to get their hands on one. After looking it up online I knew PlanetBoxes would be on our "must have" list for school this year. Being the procrastinator I am (you didn't know that about me did you?) I finally ordered them when school started. The kids have been asking all summer if I was going to order Planet Boxes...I finally did, the first day of school. :)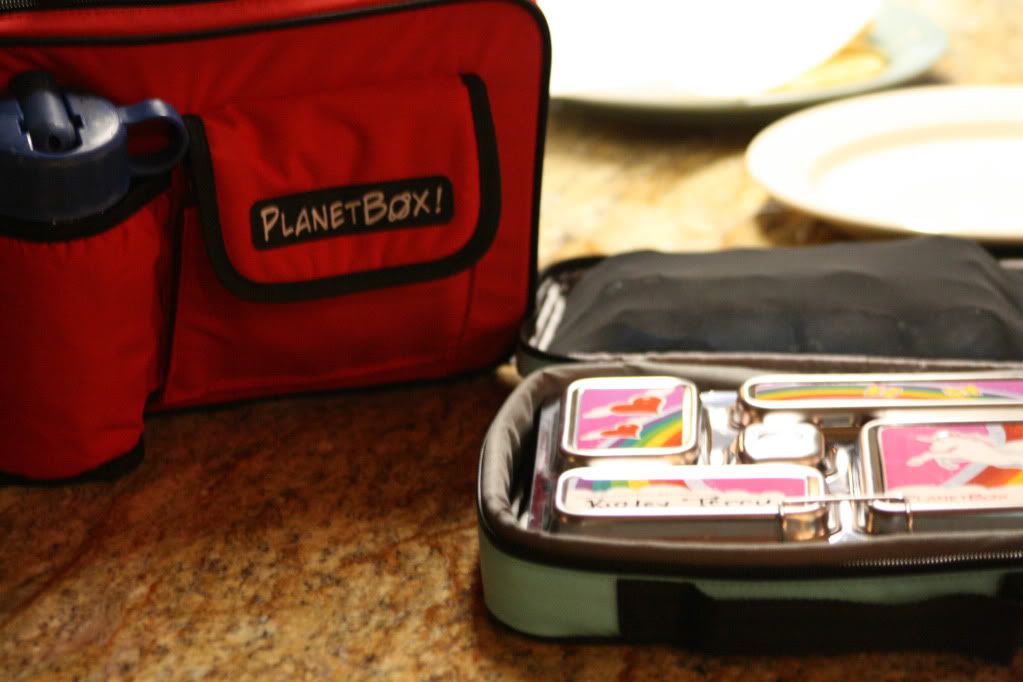 The much anticipated "PlanetBoxes"
This morning was a lunch box packin' party! I've never seen two kids so excited about packing lunches. It was crazy and fun ~ it was crazy fun! I'm loving these lunch boxes because for the last 4 years I've been limited to what I could send in their lunches. I'm a zip-lock baggy mama and strawberries, cherry tomatoes, blueberries and such don't do well in baggies. The kids refused to eat squished berries and tomatoes. I don't blame them; unpacking their lunch boxes was a pretty gross job. But no more ~ Planetbox to the rescue! If you think you might be interested I highly recommend going to
www.planetbox.com
to watch the video. 
I can't wait for the kids to tell how me how lunch was today!