You swear you've had enough,
you're ready to give up
on that little lie they call love,
then out of the blue clear sky.
Fallin' right into your hand
like rain on the desert sand,
it's the last thing you had planned,
out of the blue clear sky.
Here she comes a walkin' talkin' true love
Sayin' I've been lookin' for you love
Surprise your new love has arrived
Out of the blue clear sky.
Ain't love a funny thing,
one day you're givin' up the dream,
and the next you're pickin' out a ring
out of the blue clear sky.
by the Great George Strait
Ahh George...what can I say that hasn't already been said. He's a legend. So when I heard he was going to be in concert in January, I shrugged and thought, we've already seen him in concert three times and there will always be others. Well, Tuesday I found out, as all of you probably know, this will be his Farewell Tour...hence the name "The Cowboy Rides Away Tour." Just the name of the tour makes me want to grab a tissue.
George and I go way back; all the way back to 6th grade to be exact. I actually remember the first time George flew by my radar. It was 1984, I was 12 and at a slumber party with a bunch of girls going gaga for this young man wearing Wranglers and a cowboy hat. I know I had heard his music before because all we listened to was country, but this was the first time I recognized him as the
good looking heartthrob
talent that he was. :) I remember standing in the hallway at my grandmother's house when we heard George's daughter had been killed in a car accident. His daughter and I were close in age; my heart broke for his family. "Baby Blue" will go down in history as my favorite George song. I could go on and on. We found out our county stock show is the week after the concert and the concert is on a Friday night, so guess what? We're going. All four of us. This is country music history people and we're going to be a part of it!
So, why the song at the top of the post? This song is special, but I didn't remember how special until we were heading to school yesterday and it came on the radio. As the song took me back 16 years, I got to tell the kids all about it...this song was released in April 1996 just one month after R and I went out on our first date and they were still playing it on the radio that September when cupid finally
hit me with his arrow.
We all have songs that we feel are written just for us; this one was written for me. I'm not saying I had given up on love completely, but I was definitely taking a break from the dating scene when R came along ~ and George was right there singing all about it. :) I'll see you in January George and I will have a few tissues in my pocket just in case.
Our school library is having a fun little contest where the kids bring a picture of themselves in their favorite reading spot.
Here's K's favorite reading spot; with a friend way up high in a tree.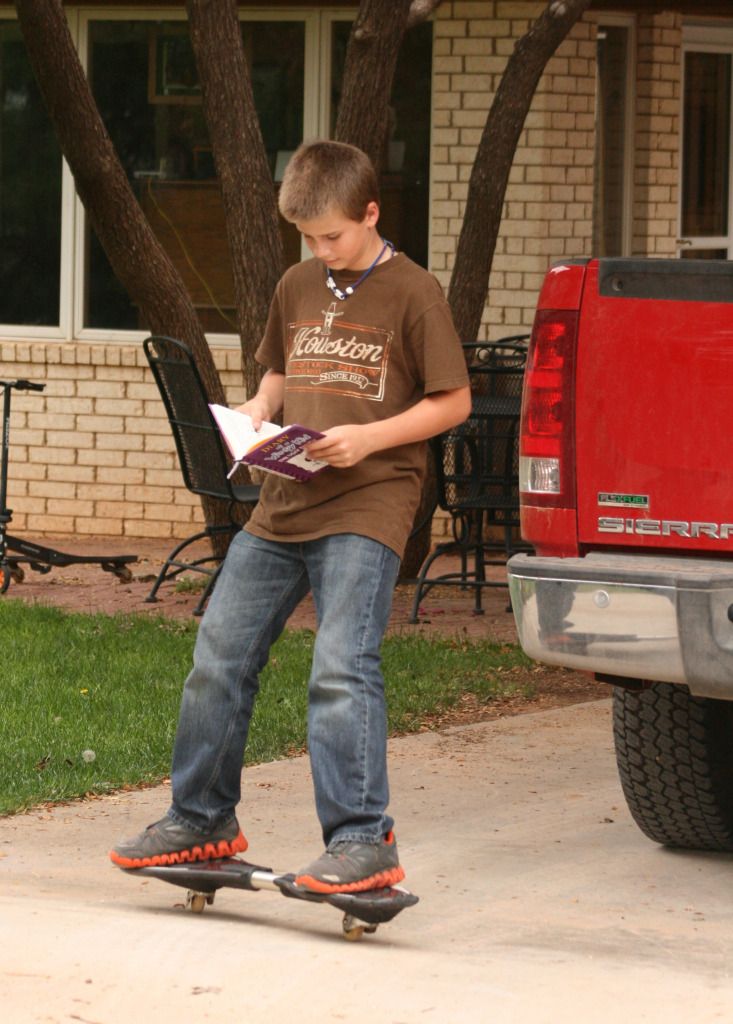 And here's R's. This picture is for real. He really can read while on his Ripstick. The first time he did this I was totally amazed. The kid has more coordination in his little finger that I have in my entire body. I tried riding this thing while holding on to the side of the Tahoe and couldn't do it. Somebody should video me trying to ride the Ripstick...I bet it would go viral. :)

That's it for today. I'm hoping to have some more recipes and cool blogs to share with you next week.
Have an awesome Friday and fabulous weekend!