For the past several weeks the kids have been working super hard getting ready for UIL contest. This whole UIL thing was new to me when 6 years ago R tried out and made the Story Telling Team. In 3rd grade he made the Music Memory team. This was our first experience with Music Memory and definitely his first time listening to and having to memorize classical pieces; all this at the ripe old age of 8. Pretty awesome. What is even more awesome is that he won that event two years in a row. This year he competed in Music Memory and Listening Skills. He didn't place in Music Memory, but I told him someday he's going to be able to impress a girl with his knowledge of classical music. This is where I got the eye roll and the "Whatever Mom," :) He placed 3rd in listening skills which makes me very happy to know he CAN hear.

K placed 6th in Music Memory and competed in Oral Reading for the third time in four years. She won her kinder year with "Our Mother's At A Meeting," a wonderful poem by Kenn Nesbitt. It was a really long poem for a 5 year old and she did a great job with it. Last year she got 2nd place with "Lemonade Stand" by Dave Crawley and on Thursday she won 1st place with "Princess Polly and the Pea" by Laurie Young. She read the poem in a British accent with several different voices throughout. It amazes me that she can stand in front of judges and do this; not only judges but the entire elementary school. The oral readers have been practicing in front of all the different classes for the last few weeks; needless to say she's sick of this poem. All the grandparents want to hear her read it...I'm thinking there's going to have to be money involved to get her to do it again. :)
So yesterday I attended a MOPS (Mothers of Preschoolers) meeting. Several weeks ago a friend of mine asked if I might be interested in being a mentor mom at their MOPS group. I was very honored to be asked and only for a second allowed this to make me feel old. I remember what it's like to have preschool age children. I remember thinking K would never start school now all of a sudden she's a 3rd grader. It's so hard to realize it when you're in the middle of messes and diapers and nap time, but time does fly by. I hope I can be there for a tired mommy, if just to listen and then pray.
We made a super cute craft yesterday. I'm sure this is one that has been floating around Pinterest for a while but it was totally new to me.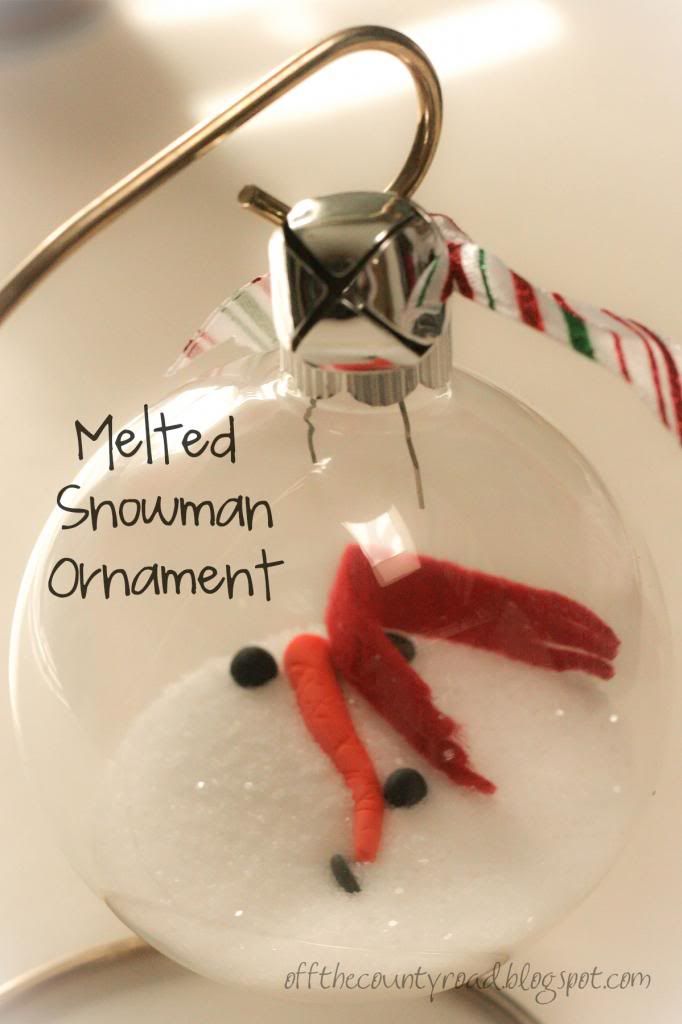 The mom in charge of getting all the supplies together for this precious ornament created the buttons, coal eyes and carrot noses out of Sculpey clay ahead of time. How cute is that teeny little carrot nose? You can't see it but the buttons actually have tiny little button holes. So cute! The snow is salt with a little sprinkle of glitter to add just the right amount of sparkle. The scarf is a little strip of felt. I love this and can't wait to get my tree up so I can place this little melted snowman in just the right spot.
A little funny ~ the night before this meeting K touched my stomach and asked me if I could still have a baby if I wanted to. I told her I guess I could. She said she wanted me to have a baby (this is a recurring conversation btw) and then told me I could still have one because she was only 8 and she was still young enough to have a baby brother or sister. The next morning as I sat across the table from a mommy with a precious 7 week old baby boy. I felt that familiar tug at my heart. If you're a mom you know. That feeling of knowing what it is to hold a new life and also realizing that your turn is over and for a split second wondering if maybe, just maybe it isn't too late...