I want to share a super easy, extra yummy treat with you today that just happens to also be good for you. Chia Seed Pudding is one of those things that when I made it, I honestly wondered why I had lived all these years on this earth and never had it before. :) From as far back as I can remember one of the simple pleasures in my life has been tapioca pudding. Funny thing is the only time I would eat it was when we went to eat at Furr's Cafeteria. I'm pretty positive I've never made tapioca pudding at home. So when I heard you could make a tapioca-like pudding out of chia seeds and a few more simple ingredients, I though, "Why not."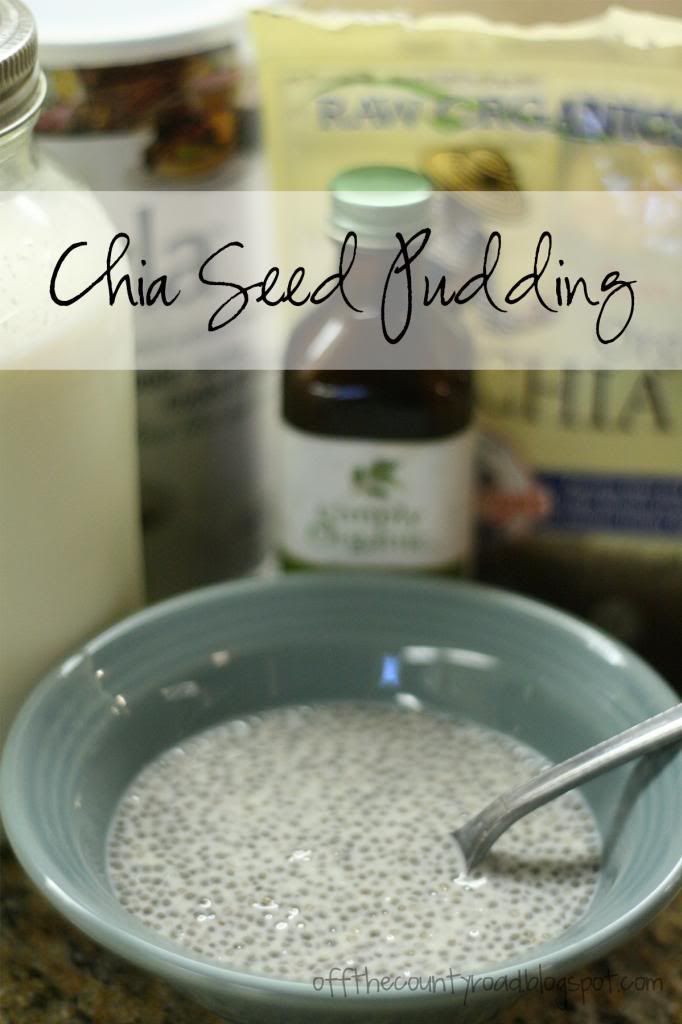 All you need to create this bowl of yumminess is 4 ingredients:
1 1/2 cup Milk (I use raw milk my sister gets for me from a dairy in Dublin, Tx. This milk is heaven in a glass, but that's another post.)
4 Tbsp Chia Seeds
2 Tbsp Xylitol
1 Tbsp Vanilla
I reuse a 14 fl oz coconut oil jar every time I make this pudding. It's the perfect size for this amount. Once you have all your ingredients in your container give it a good stir and stick it in the fridge; an hour or two later stir it again. The chia seeds will clump together, so the more you stir, the better.
That's it. After the pudding sits for several hours and the seeds have had a chance to soak up the milk, you'll have a snack or dessert or breakfast you can feel good about feeding your family.
K loves this pudding. The last batch I made she said, "This is the best chia seed pudding ever!" as if we've been eating it forever when in reality we've only been eating it for about a month. I also have to say I did not create this recipe. I saw it for the first time either on Pinterest or heard about it on a podcast, and have since lost where I found it. I also should tell you the first few times I made this I used chocolate almond milk and made a chocolate pudding. It was good, but the almond milk was burning my stomach so I quit making the pudding until I got my hands on raw dairy and now we're back in the pudding business. :)
I feel good about K eating this, even for breakfast! It's full of good healthy fats, vitamins and fiber. I sent her a cup of this in her lunch the other day with a slight worry that some of the kids in her class would see it and say something...you know like "that looks gross." Once again I worried for nothing because her pudding totally flew under the radar. :)
Speaking of kids at school...apparently there's a nasty stomach bug going around and I am in constant prayer mode that my kids don't get it. Here's the prayer I've been repeating in my head for the last 24 hours...Dear Lord, please be with my children and protect them from this nasty stomach bug and forgive me for being selfish and wanting to spend a day with my friends shopping at Holiday Happening. In Jesus' name, Amen. Seriously, Holiday Happening has become a tradition and I will throw the biggest pity party if I don't get to go. Ok, enough of that.
If you decide to try this recipe, I would love to hear what you think. Also if you have any questions, don't hesitate to leave a comment below. If you know someone who might like this recipe you are welcome to share on Facebook. :)