Ok, I'm about to put something out there that may make me look like a bad mom...here goes...I did not take my kids shopping for school clothes. Why is it that this should make me feel guilty? It's ridiculous. Where is the unwritten rule in society that says we have to go buy our children a new wardrobe because school is starting. For one thing it's still 100 degrees outside so I'm not going to go buy winter clothes and I'm not about to spend money on more summer clothes that they are only going to wear for one more month. So, there it is, a confession of sorts. That being said, my kids are perfectly fine with this. Neither one of them wanted to go shopping. In fact, shopping is on the bottom of their "fun things to do" list. So, when the weather starts cooling off, I will make a trip to town and in the peace, tranquility and solitude of my aloneness I will shop for my poor children a few new outfits to get them through the winter. :)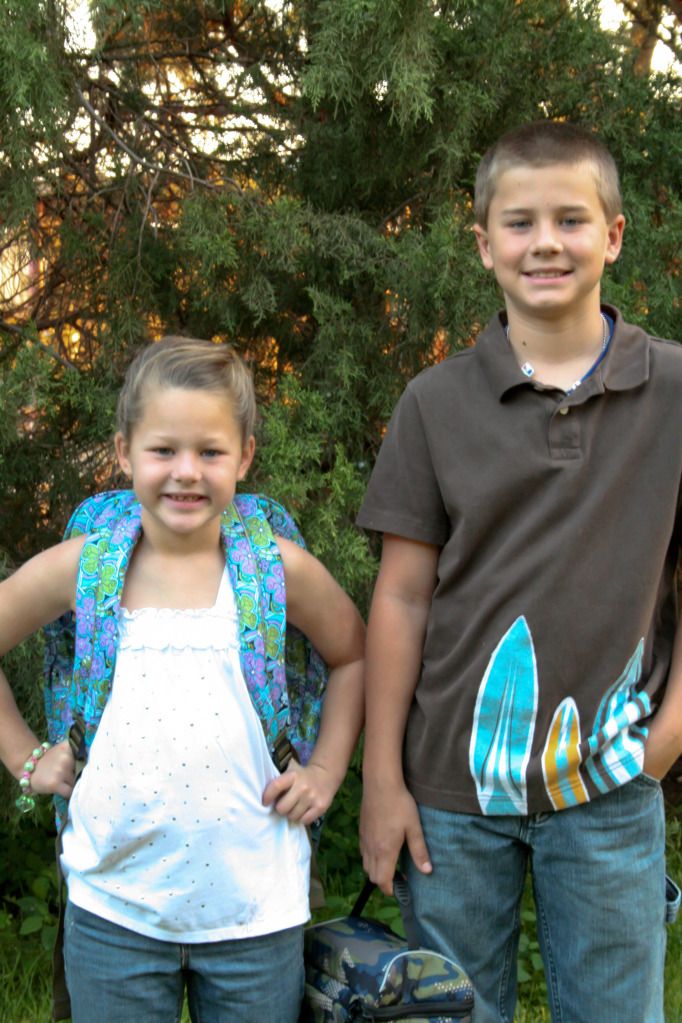 Here they are all ready to start a new school year ~ 2nd and 5th grades.
As hard as I tried to be prepared for the first day of school, the morning still turned out to be a hectic one. Notice the cute white shirt? Well, K decided she would get a jump on things and go put her backpack in the Tahoe while I was finishing up breakfast; the dogs decided to get a jump on her. Yes, muddy paw prints on her pretty white shirt. Daddy to the rescue. As she's crying, R is patiently trying to remove the muddy paw prints. He did a great job. We eat breakfast, head out the door for a "First Day of School" pic and you guessed it...another muddy paw print. Are you kidding me?? More tears, more help from Daddy and we're off in hopes that we're not tardy on the first day.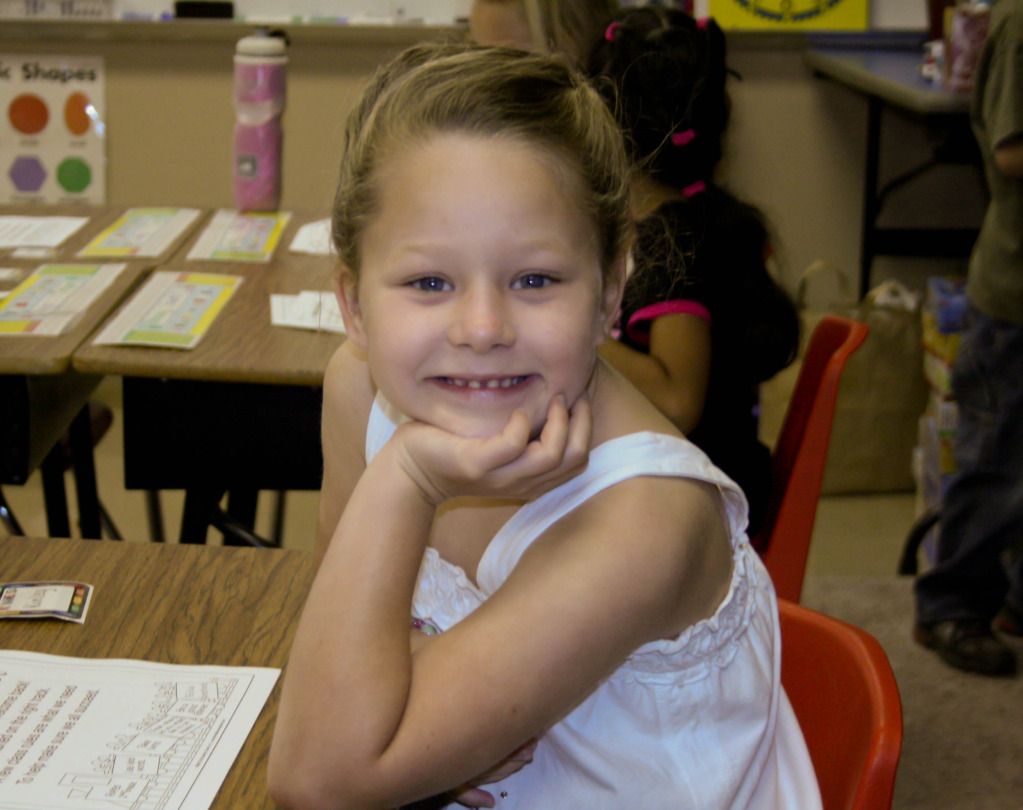 We managed to get there on time and I managed to get a smile out of her. See the name tag on the table? My kids have always had an aversion to name tags. I have no idea why, but her teacher and I have been wondering for a few weeks how we they were going to work this one out. I'm anxious to talk to her this afternoon and see who won. :)
No pics of R. He's a big 5th grader now and the last thing he needs is his mommarazzi embarrassing him on the first day.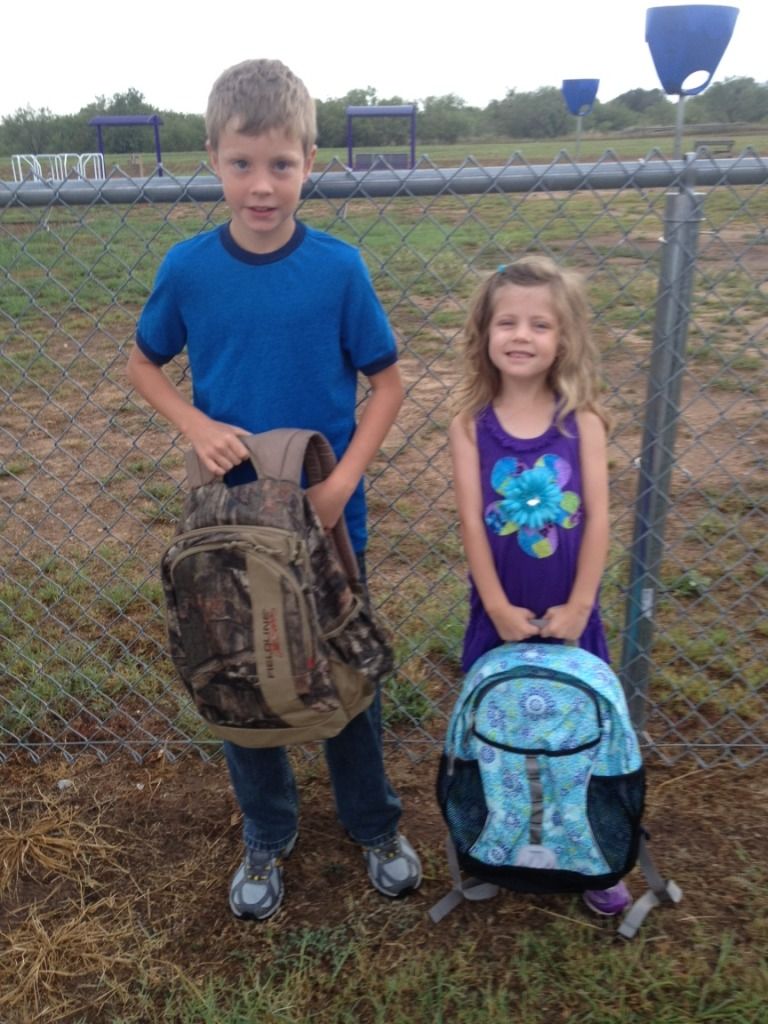 I had to include a pic of my adorable niece and nephew. H is starting Kinder today and is so excited. My nephew, also H (that could get confusing) is starting 3rd and a brand new school. I know they are going to have a great day!
So I didn't get this posted before we left for our annual 1st day of school lunch and now here it is "after school." The kids had a great day. Nothing too extraordinary happened. R informed me that the first day of school is just like any other day and K wore her name tag until it fell off at the end of the day. Victory! My niece loved running around outside and the cafeteria; my nephew would much rather be outside working with his dad and is not too happy about school messing with his summer. Come to think of it, I'm pretty sure that's what R would rather be doing too.
We're all having a little snack and then heading out the door for football practice. I looked at my mental calendar today and realized there is not one night during the following weeks that we don't have somewhere to be. I love these busy days that are upon us. I'm looking forward to Fall and the cool crisp mornings and bidding farewell to the...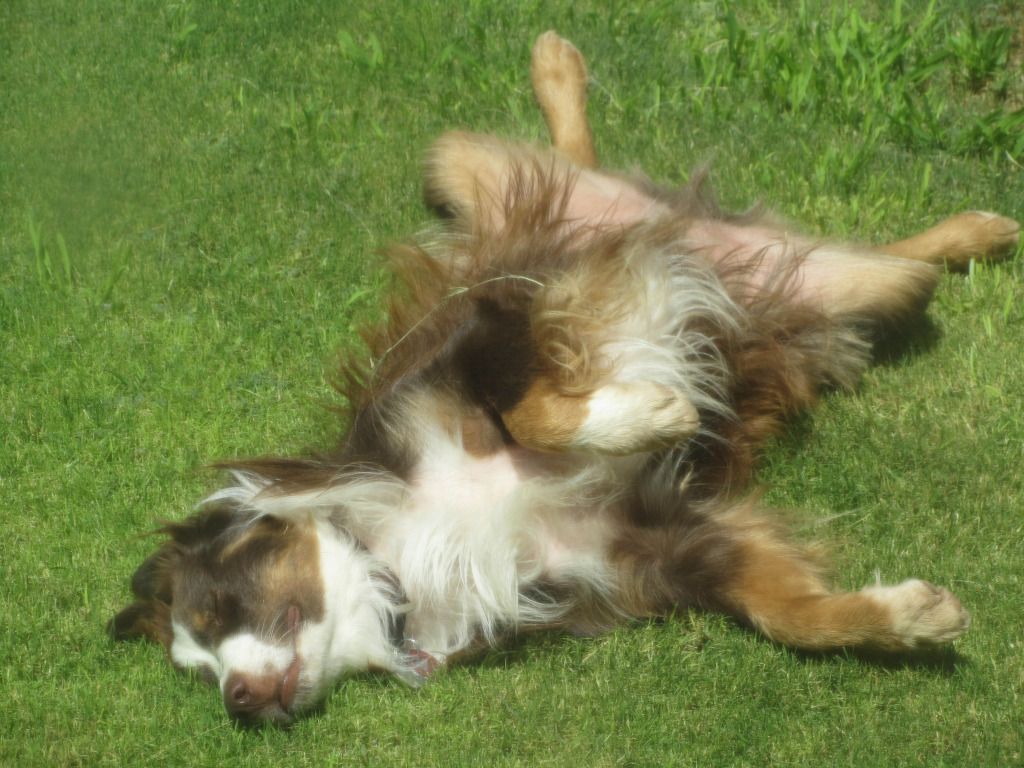 dog days of summer. :)
p.s. the moral of the story (if there is a moral) could be: don't wear a white shirt on the first day of school when you have puppies with muddy paws who are excited to see you in the morning.