Yes, I'm wrapping up the month of July in the middle of August. And Yes, I haven't blogged in almost a month. Everyday I feel a gravitational pull towards my laptop, but never seem to find the time to actually sit down. We've been busy over the last several weeks and now that the first day of school is breathing down my neck, I'm starting to feel that all familiar urgency/panic that I feel this time every year. Is it just me or can you literally feel a surge of energy or some kind of momentum pulling us into September. It almost feels like a snowball rolling down a hill and I'm stuck in the middle; you know like in those cartoons where all you can see are the arms and legs sticking out. Anyway, in an attempt to slow down a bit and savor every last morsel of summer I thought I would recap what we've been up to the last few weeks...
We've helped Daddy on the farm, watched the cotton grow and prayed for rain...
We spent a fabulous yet exhausting week at VBS (I was suffering from a sinus thing and thought about throwing in the towel many times during this week, but somehow I just couldn't not be there.)
We've played Play-Do. This is K's creation...
And R worked on this masterpiece.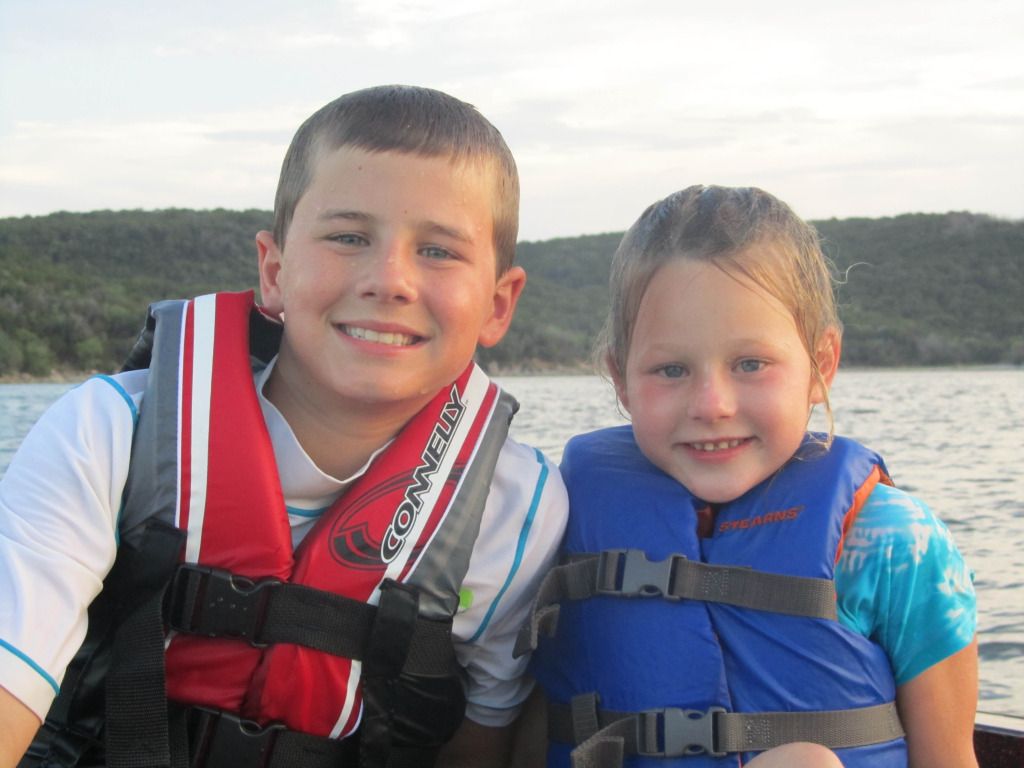 We spent 5 glorious days at the lake. K learned to knee board and ski, R learned to ski and wakeboard; he even started jumping the wakes ~ pretty awesome! We also logged many boat hours pulling the tube around and around and around. K is one little dare devil and once we convinced her there were no sharks in the lake, she was unstoppable. :)
This is what we look like after a day on the water. I know ~ scary.
We came home from the lake on Christen's birthday, so we made our trip to the cemetery the next day. K went with me to buy flowers. She picked out some funky zebra striped daisies that I'm pretty sure her sister would think were totally cool.
So, that's it...July in a nutshell.
I'm working on a blogging schedule. Still haven't put anything in writing yet, partially because I don't know if I want to limit myself to certain things I have to post on certain days. So far I like my "fly by the seat of my pants" kinda blog, but I feel like if I had a schedule more thoughts would get recorded. Anyway, just a thought. Hopefully you'll hear from me before the end of August. :)
Blessings ~