My friend Audrey and I decided we would get together and make these cute little Christmas gifts as a "Thank you" to all the teachers at our kids' schools. My mom is an avid collector of "things" because "you never know when you might need them." I'm so glad she decided to start collecting these cute little Starbucks jars. I've been on a recycling kick lately which drives my husband crazy, but it makes my heart sing to re-purpose what might end up in the land fill or at the bottom of our incinerator.
Can you imagine throwing all these cute little bottles in the trash? I can't!
Thanks Mom for saving these for us!
I'm sure there are recipes for Spiced Tea floating around all over the place,
but here's the recipe that's written down in my Gooseberry Patch "My Favorite Recipes" book: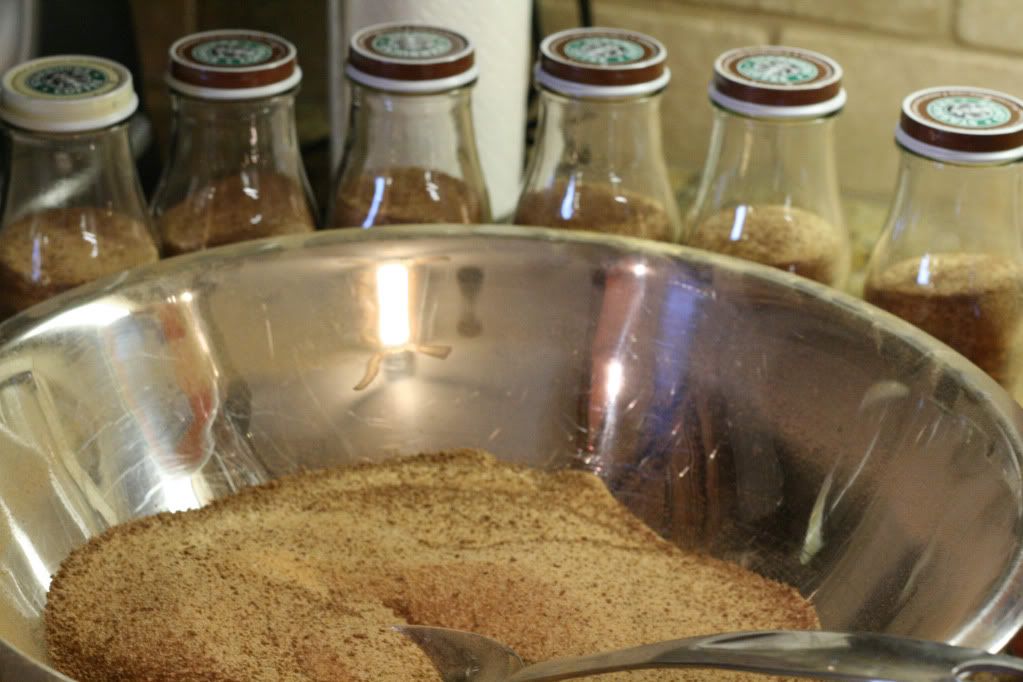 I'm telling you, if you haven't ever mixed up four batches of spiced tea, you should try it sometime. Everything in my kitchen was covered in a fine layer of spiced tea dust. The room smelled wonderful ~ that might have been the dust up my nose, but whatever, it sure smelled yummy and oh so Christmas~y. :)
Oh, and on a side note ~ I called Audrey to tell her it was going to cost a small fortune to fill all these jars and I didn't think I had bought enough ingredients to make all I needed and I wanted to make sure she had enough made up to fill all her jars. The first batch had only filled four jars; at this rate I would have to make about 8 batches just for my jars. So, we start comparing our recipes and half-way down the ingredient list I gasp...and she says, "You didn't put the sugar in did you." She knows me well ~ and let me tell you 1 1/2 cups of sugar makes a big difference in this recipe. I'm so glad we discovered my mess-up. How embarrassing would that have been!
Dun Da Da....and here's the finished product. I think they turned out really cute! It was totally a team effort and we had so much fun visiting and crafting. We put alot of love (and sugar) in these little jars ~ I hope the teachers know how much we appreciate all they do!