This Fourth of July was only the second in 15 years that we haven't been at R's mom and dad's cooking, playing in the water and popping fireworks. The first was two years ago when it rained so much that the road to their house was impassable. Rain wasn't a problem this year, we just decided to have it at our place. R's mom and a few of our nieces helped set up the day before and when they left we had a little lull around here; you know, kinda like the calm before the storm. The kids were restless waiting for the party the next day. I had been battling my inner Walmart demons for a few days...on the one hand I knew I didn't have any 4th decorations and how lame is a party without decorations? On the other hand I didn't want to go spend a bunch of money on junkie stuff that's going to end up in the trash hole (country word for incinerator.) I decided we would drag out my paper scrapping supplies and make a few handmade decorations. I've held on to my paper crafting supplies thinking someday we would use them. Well, that someday finally came. Yea!
Ta da! We got the idea off the
Family Fun
site. It was the first craft we came to so we went with it. Our's didn't turn out exactly life the original, but that's the beauty in crafting right?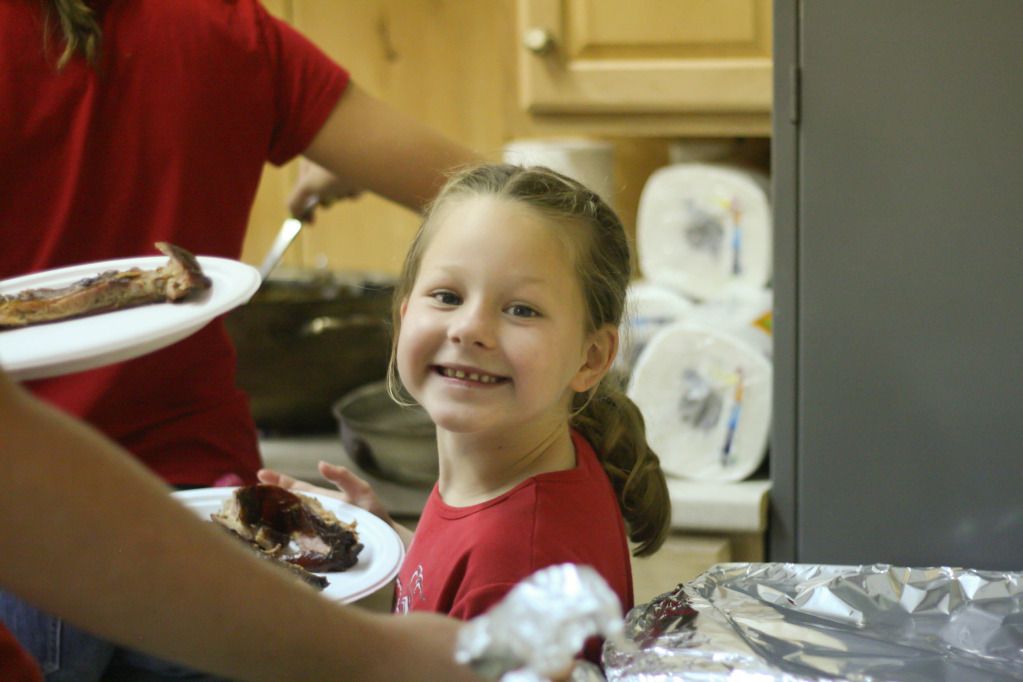 Ribs...yummm! We look forward to this meal all year. R is a whiz at the pit and this year the ribs were the best ever. I had ribs for dessert ~ that's how good they were. :)
We had our Ag teacher and his family over for the day. Isn't she the most precious thing you've ever seen? This little girl is the reason K wants a baby sister. :)
We set the water slide up and Bo (R's mom) supplied the kids with water artillery. Little R was very resourceful and kept a steady supply of ammo ready to fire.
I have to talk a minute about the water slide. We decided about 6 years ago to all go in together and buy one of those blow up water slides. At the time all the kids were little and the slide was huge. Fast forward 6 years...the kids have grown and the slide has shrunk, but it's lasted and has been one of the best $150 investments ever. We've all definitely gotten our money's worth out of this fun toy! If you have small children and have toyed with the idea of getting one of these, go for it! It'll be the best money you'll ever spend.
Speaking of...isn't he handsome? I won't show you all the out takes, but it took a few different photographers and several shots to get this picture of us. First Little R took a few, but we (or should I say "I") were taking too much time away from his Ripstick, then I called K over to give it a try. She took a few ok shots, but then Papa asked for the camera. This was a first in family history. I don't think I've ever seen a camera in his hand. He's pretty good! He said something funny (that I won't repeat) and whalha! (How do you spell whalha?) Thanks Papa!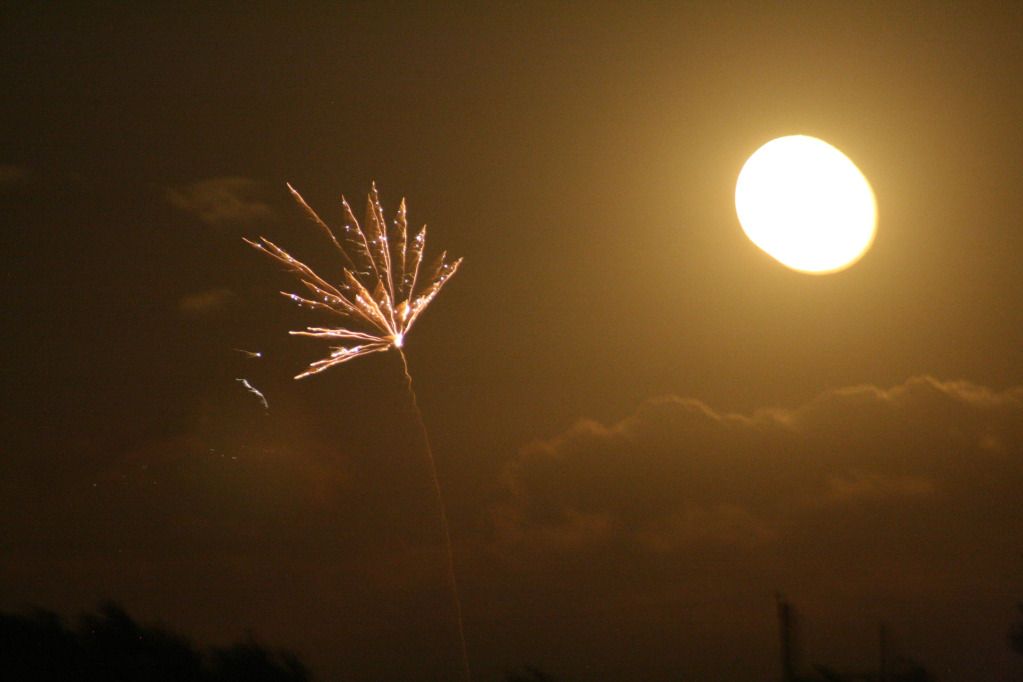 Ok, so I said I was not going to try to take pics of the fireworks. Because all I usually end up with is alot of frustration, but when that big beautiful moon started rising I couldn't help it, I had to run in and get my camera. Our neighbors' fireworks looked so cool right next to the moon. The moon looks a little wonky (and kinda like the sun) thanks to my lack of expertise, but oh well...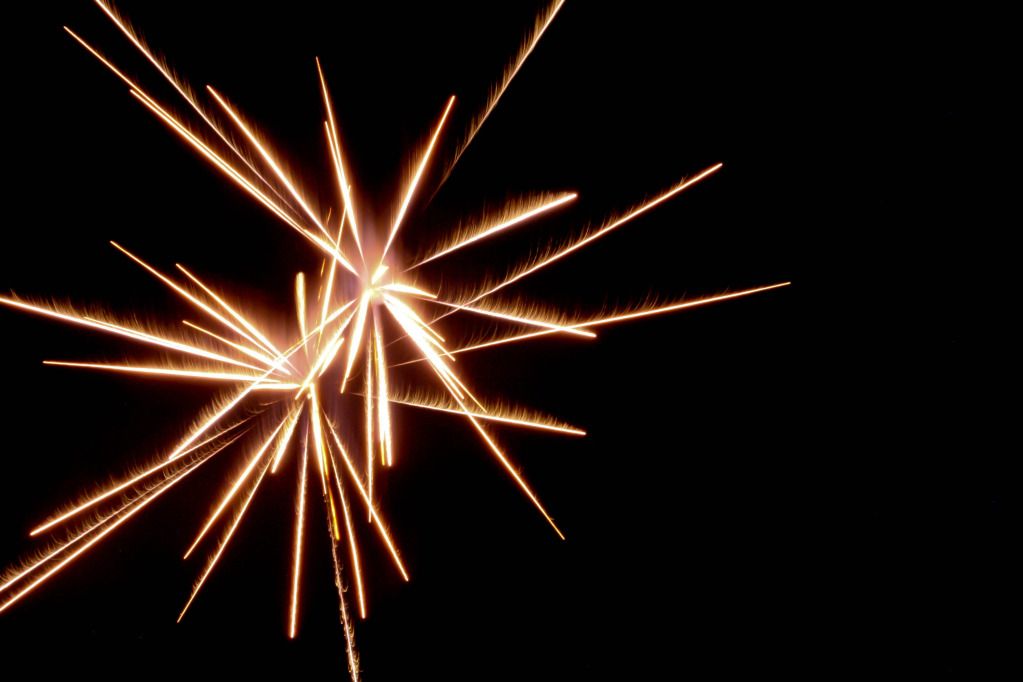 This one is from our yard. Pretty cool.
I'm already looking forward to next year! And whether we have it here at our place or at my in-laws, we will be making memories surrounded by family and friends.