We're nearing the end of Spirit Week and today is Hero Day. As I said yesterday, K wanted to dress up like her daddy. It was touch and go there for a minute about 6:50 this morning. I thought I was going to have to come up with another blog post idea because she changed her mind about 5 times whether she was dressing up today. It's really funny how my kids are so different; all I have to do to wake R up in the mornings is turn on the light and sweetly say, "It's time to get up." He literally rolls out of bed no problem; K on the other hand is a little bear. No matter how gently and sweetly I try to rouse her from her slumber, she growls at me. This morning was no different...
She finally managed to get dressed and then complained for 10 minutes because she looked like a boy. "Well," I said, "you're supposed to look like a boy because Daddy is a boy." :) Once we finally got the gin cap on her head and the bandanna in her pocket she was warming up to the look.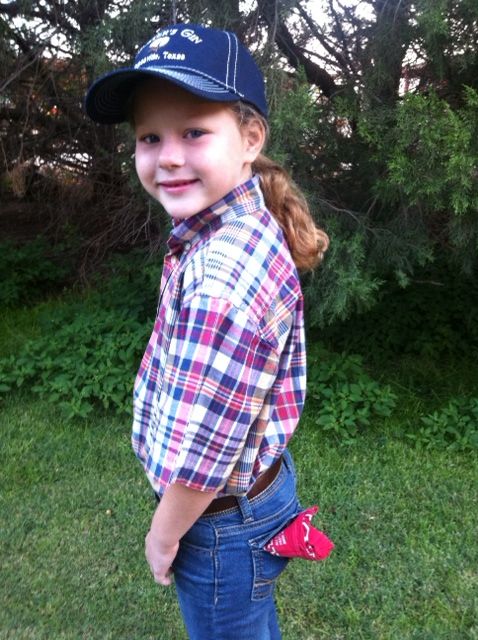 We found an empty can of snuff in R's truck this morning, but didn't think that would go over too well. This is totally off the subject (but not really;) several weeks ago K and I were watching Toddlers and Tiaras. We never watch this show. My beauty queen is sassy enough without the help of that show thank you very much. Anyway, I agreed to watch it with her knowing I would turn the channel at the slightest hint of a sassy mouth (from the pageant girls not her.) So the theme was The 50's and one mom was dressing her daughter up like Sandy from Grease; for the finale this four year old comes out in tight leather pants, tight off the shoulder shirt with a fake cigarette hanging out of her mouth. Are you kidding me!?! Not only that, the mom reminded her to smoke before she went out on stage. K was about as shocked as I was and the judges were speechless. To this day K is still talking about that little girl pretending to smoke. So...I'm pretty sure snuff (even an empty can) would NOT have been a good idea.
Back to the Homecoming festivities. Tomorrow is Spirit Day and all we have to do is wear our normal Friday attire; green and black. Oh yea, and we have to fix K's hair like the 80's which me reminds me I need to buy extra stiff hairspray today. I'm looking forward to hanging out with friends at the Jr. Supper and then the football game. I'm excited about the Jr. class silent auction. I donated a few soldered Eagle Football charms and I will also be painting one lucky bidder a pair of Toms. So if you read this and you're in my neck of the woods, go bid high and support our Jr class!
A flashback to the 80's will be in store for tomorrow...see you then.