The post I had planned for today will have to wait. I have other thoughts I need to get out there...
Yesterday evening I got a text from a friend telling me I needed to check Facebook. Almost instantly after opening the app my heart sank. One of K's sweet little friend's mom, who was 7 months along in her pregnancy with a little girl they had already named Ally, had posted the worst news that a mommy can post. The baby's heart had stopped beating.
I wanted more than anything to jump in my car and go to them. Hug the family. Pray with the family. Most of all let them know I was there for them. I wanted them to know my regrets of not dressing my baby before they took her away from me and not taking more pictures with a really good camera. Whenever I hear of a family losing a baby, my heart breaks a little, but when it's someone I know personally, someone I see on a daily basis, I feel the need to do more.
The death of a baby is something that each family deals with differently. I cried for months; some moms don't. Some families can accept it knowing it's God's will for them and move on pretty quickly; not me, I questioned our fate, I asked "why." I knew God had a plan; I believed in His love for our family, but I still wanted to know why.
Now that we are 12 years removed from our grief, I look at the two other children we have been blessed with and know His plan is perfect, but in the first raw moments off loss the days looked pretty dark. I remember thinking I was going to have to live out the rest of my days missing my baby girl. I was not looking forward to this. I didn't want to leave the hospital because that meant leaving her behind although I knew she wasn't really there. I didn't have other children to go home to at the time. Our home and our arms were empty. I really didn't know how I would make it that long without seeing her again or holding her in my arms. Then there came a day when I could actually thank God for the experience. I'm anticipating a beautiful reunion one of these days and besides seeing Jesus face to face, the thought of seeing Christen is something I'm so looking forward to.
I think of her everyday. I miss her everyday. I wonder what she looks like. I wonder what her voice sounds like. I wonder if she likes to sing like me.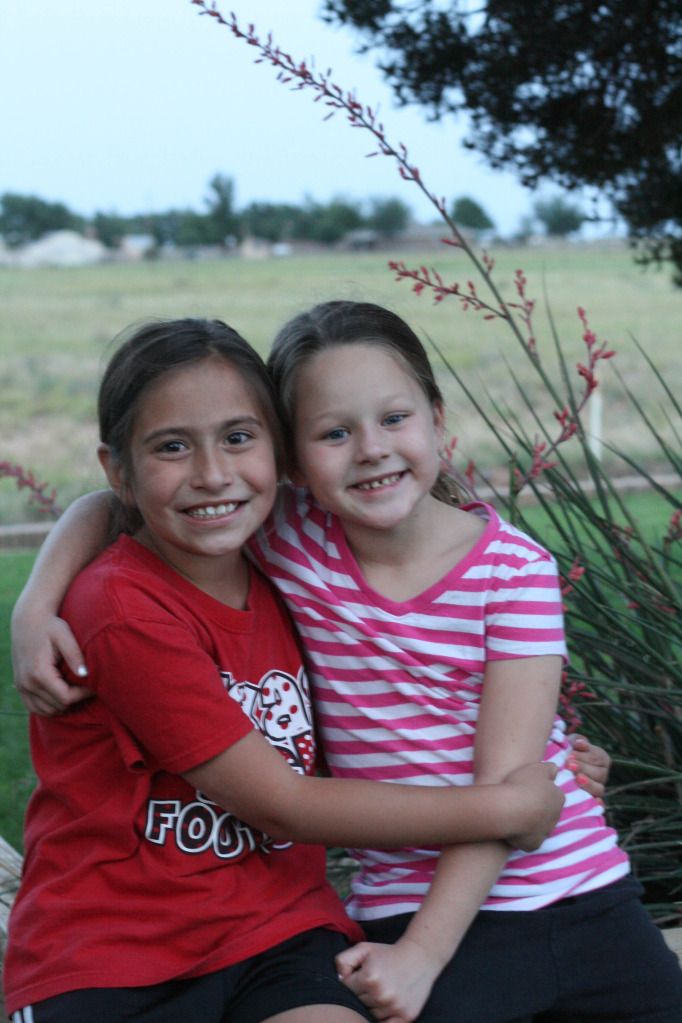 Here is K with Ally's big sister. Who knew 3 months ago that these two girls would share a heavenly bond.
I've talked with K and told her that L would be very sad and that she needs to give her a hug the next time she sees her. I'm hoping that when the time comes these two friends can talk about how they both have sweet sisters playing in Heaven.
There are so many things that happen here on earth that we do not understand. There are questions that will never be answered this side of Heaven. My heart knows that our heavenly Father's plan is perfect and by the time we get to where we're going and can ask the hard questions, the answers won't matter anymore...